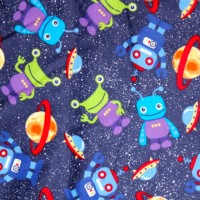 The flannel used on the back of this burp cloth has a navy blue background with small white dots as stars.  On top of this, there are colorful aliens, flying saucers, and planets.
Burp clothes are made from Gerber cloth diapers.  On one side is a decorative flannel and the other side is the cloth diaper with a monogram or name.  Monogram is included with the price of the burp cloth.  Please be specific about the initials or name to be sewn onto the burp cloth.
All burp cloths created by Mindys Makes are machine wash and dryable. They are made in a smoke-free environment and have been preshrunk. Also, they are made in the U.S.A.